List of available apartments
The living units are furnished with every comfort, heating, balcony, garage, ski and ski boots closet, tv color, telephone.
Same type apartments can have different arrangement in the premises but same number of beds.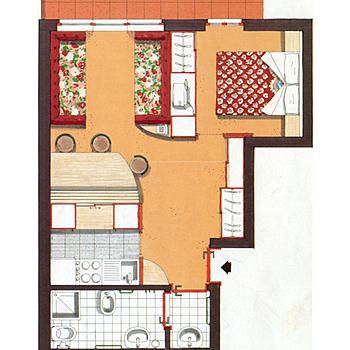 Apartment type S 5 beds
The 5 beds flat is a two room apartment with kitchenette, bathroom, double bedroom, living room with two single sofa-bed (one transformable in bunk-beds).
CIPAT codes: 022143-AT-: 057756; 658173; 658175; 057755; 658179
occupazione: 5 persone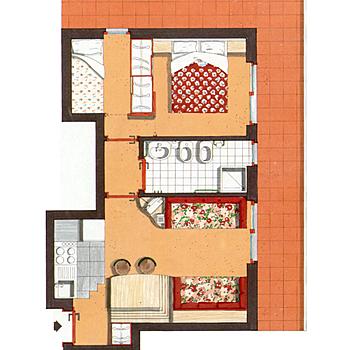 Apartment type SM 6 beds
The 6 beds flat is a three-room-apartment with a double bedroom, a bedroom with bunk-beds, living room with two single sofa-beds, kitchenette and bathroom
CIPAT codes: 022143-AT- : 658167; 658172; 658174; 658178; 658180; 057754; 658181; 057758; 658196
occupazione: 6 persone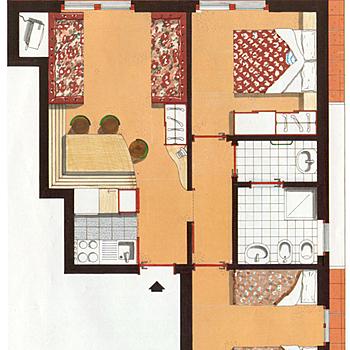 Apartment type ST 7 beds
The 7 beds flat is a three-room-apartment with a double bedroom, a bedroom with three beds (a bunk-bed and a single bed), living room with two single sofa-beds, kitchenette and bathroom
CIPAT codes: 022143-AT-: 057757; 658176; 658177
occupazione: 7 persone